he is one of the most famous pianists alive (and definitely THE most famous female pianist). Her life and her pianistic abilities are the stuff of legend. Listening to her playing is like putting your hand into a power socket. She has that 'electric' quality in her performance. She once dubbed 'The Whirlwind from Argentina'. I say that she indeed is a whirlwind, but a whirlwind made of fire. When she was 16, she won the first prize of Geneva International Music Competition and Ferruccio Busoni Competition. Eight years later she won the most coveted prize of the legendary Chopin International Competition.
Martha Argerich was born in Argentina on June 5th, 1941. Her parents were not musicians, but she started very early at the age of 3. Later she said that she sometimes could not explain this close connection with the piano – all the whys and hows – because she had known nothing else. She had many teachers, most notably are Nikita Magaloff, Friedrich Gulda and Michelangeli. Though, she credits Gulda as the one who influences her the most. Her mother went to Juan Peron, the president of Argentina to ask for help for her go to Austria to study with Gulda.
The Out-of-this-World technique and High-Voltage-Risk-Taking are what I like about her playing. When she plays, she burns my seat. She is a charismatic woman with an enigmatic reputation. She knows what she wants on stage, but it's difficult to understand her completely.
She always wears black on stage that gives out a sense of religious ceremonial about it. And when she played impossibly difficult pieces, it's like artistry sorcery. Which is why I call her the Supreme Priestess. I think that's a really good look. It's like her ceremonial robe that she put on before worshiping at the altar of god of music. You'll find some rare occasion of her wearing other than black on stage in her youth. But that no longer the case. She is beautiful with her signature black hair (now as age caught up, become a shocking flow of silver).
Let me tell you a story to describe how excellent she is on the piano. There was an interview with Georges Gachot that goes as follows:Gachot: "About Prokofiev's Concerto…" (He was talking about Prokofiev Piano Concerto no. 3 in C)Argerich smiled: " Oh that's easy"Gachot was stunned by this remark: "Easy?"Argerich: "For me it is… He's very fond of me. He never play any dirty tricks on me"You have to understand that Prokofiev 3 is often chosen as a competition piece. And for a good reason, it's terribly difficult solo part, and the soloist needs a strong rhythmical sense to play well with the orchestra. Prokofiev's rhythm is not the most straight forward. This is what she call "C'est facile – It's easy". I should note that out of 5 concertos Prokofiev wrote, the one regarded as the most evil of all is the 2nd.
She then tells a story about how she learned it. She was sharing a room with another female pianist. Argerich was always sleeping during the day (she was a night owl) and the piano was in the room. And this roommate of her was practicing the Prokofiev 3rd, and Argerich learned the piece IN HER SLEEP.
Yes, you read that right. She even laughed and said: "In a subliminal manner I more or less memorized it. When I had to perform it, I even made the same mistakes as she was. I picked them up, too! I learned them in my sleep. Just like when you learn a new language. You sleep while you're listening to the tape under your pillow." When she had to practice this concerto again was to undo the mistakes her roommate made.
Gachot then asked: "How old were you?" Argerich: "I was 16 or 17."
She also learned the gargantuan Tchaikovsky Concerto in 3 weeks for a concert. That is 3 short weeks for learning the difficult notes, to memorize it, decide on musical interpretation, and have to be ready to perform it on stage.
And about her famous octaves, she said speed is her problem. Not that she could not catch up. Oh no, not Martha. The problem for her is that she is too fast. Seriously, her octaves is something the audiences crank up their neck to watch. It's like a full tumble of gymnastics of a super-human quality. Looking at her thick forearms, it's easy to see why. I bet she can manually whip up egg whites into a meringue in 2 minutes.
KitchenAid looks at her with envy.
The second story was when she was learning under Friedrich Gulda. Gulda saw that she has a huge potential but she needs to be pushed. She often reluctant to play (Even today she sometimes still reluctant to play in public). So Gulda one day said to her: "I want you to prepare Ravel's Gaspard de la Nuit and Schumann's Abegg Variations for your next lesson."So she learned it in 5 days. Five-freaking-days! Holy Macaroni!
Gaspard de la Nuit is one of the most difficult music ever conceived for the piano and she took it like it was nothing. She later said that she did not know that it was supposed to be difficult. "I think that if you don't know that it is difficult, you can play it. But if people told you that it is, then you'll find it difficult."
I thought: "Yeah, Martha, but still… there's a preconception and there's a real hailstorm of notes on the sheet music." You have to look at the sheet music to understand how vicious that music is.
Martha rarely practices for the sake of keeping her technique in shape. She did, however, practice on musicality, experimenting on fresh takes on well-known pieces. He warm-up piece is Schumann's Toccata. And if one day she finds it difficult to play, then it means that she needs to work on her techniques a bit more. Yikes, Schumann's Toccata is one of the most unapproachable music there is. Just simply very challenging to lay it note perfect and on proper speed. A finger numbing piece (especially for the 3rd and 4th on the right hand). Crazy, that woman.
Upon hearing her playing on the radio, Horowitz thought that it was a man playing. Martha remembers attending to Horowitz performance of Rachmaninoff's 3rd with her friend Nelson Freire and she said that she was holding hand with Nelson and just in awe with Horowitz's energy.
When she had to perform the Rach's 3 herself, it was my turn to be in such a state of awe. She made on CD of her live performance of Rach's 3 and Tchaikovsky concerti. She really burned my seat. That performance was not note-perfect – mind you – but my God, my head, and ears were exploded. I'll take that any day over some lame lukewarm note-perfect performance. The adrenaline rush is like a roller-coaster ride.
Her performance of piano concertos soon become my favorite and what I claim to be the definitive version of the piece. There's Ravel Concerto in G which she played with the most joy and style. Such humor and rigor at the same time. Listen to her genius of basses after the cadenza. No one plays it like her.
And the 2nd movement, wow, it's like the most hauntingly beautiful tender lullaby. When I'm in my death bed, I want to listen to that. That and Goldberg Variations last.
My only wish is for her to play Prokofiev 2nd Piano Concerto in G minor. I'd pay good money and a toe to hear her play that (no, not my finger, I need those to play the piano). Can you imagine what that would sound? Prokofiev's giant from the finger of Argerich.
There's Schumann's Piano Concerto which I only listen if she plays it. Schumann was never my favorite, and I get impatient listening to him. But I'm still interested in watching her play. She loves Schumann, so she plays a lot of it.
You'll rarely find her performing alone on stage these days. Preferring the accompaniment of other musicians in chamber music, four hands music, accompanying other soloist and more often in concertos with orchestras.
Some musicians who were her friends have become her musical partner. Often performing together. The violinist Gidon Kremer, cellist Misha Maisky, violist Yuri Beshment are her go-to guys for chamber music.
Some of her partners gelled better than other. Especially those who themselves possess an incredible amount of technical prowess. Those like Brazilian pianist Nelson Freire, conductor/pianist Alexander Rabinovitch, Lilya Zilberstein, French violinist Renaud Capucon, and Evgeny Kissin. They are the musicians who can raise up to the challenge and could keep up with her.
These days, she is more gracious in her choice for partners, often just to give support to young musicians. So, I can't say that I find all her musical partners to be agreeable. Some just falter and got swallowed by her.
A special mention has to be given to Freire and Rabinovitch for their partnership in Rachmaninov's Suite for Two Pianos. That piece is a beast. Just because it's for two piano doesn't mean that Rachmaninov pulled back and make things easier. No, the notes are still thick and complicated. And with Freire and Rabinovitch, the fiery aura really shone through.
She and Lilya Zilberstein both have iron fingers. Their performance of Brahms Sonata in F minor for Two Pianos was picture perfect. Imbued with dark masculinity and does not shy to go to the extreme. I was surprised at the end that it was a live recording.
In 2010, Martha and Nelson Freire were included in the judge's panel for the Chopin Piano Competition. I surely would like to eavesdrop on their conversations. It must've been a riot! Also, I'd like to hear what she thought of the competitors. The 2010 competition was much talked about. Many (including me) believed that the winner did not deserve to win the first prize.
There are only a few of extraordinary circumstances where Martha made noticeable mistakes on stage. 99.9% you'll find her nerve of steel as unstoppable as a hurricane. On rare occasions that "mistakes" do happen largely due to external causes.
One time she was performing Bach Concerto for 4 Pianos, and the page turner turned the sheet music too soon. And at the worse time possible, no less. It was on a repetitive motif that can throw you off to find where you're at. So she had to add the notes while trying where the other musicians at. That page turner should get a scolding. She had one job! Pay attention to the music.
The other is when she performed with Dutoit in London Prom playing Prokofiev 3. Of course, she knew this piece front and back, inside out, upside down. The woodwind section made a fumble entering at the wrong bar in the first movement. She was visibly upset for the whole piece. I'm surprised the woodwind didn't just have lighting strike them off the stage.
Other time she may hit the adjacent note especially on the highly intense and emotional note. But hey, who doesn't right?
(I can see Zimerman lift up his nose and mumbled "Not me" haha.. but it's Krystian-Holy-Chopin-Zimerman)
So in a sense, those were not her mistakes. Martha can do no wrong in my book.
Did You Know?
She speaks 5 languages: French (in her day to day), Spanish (her mother tongue), German, English, and Italian. That's as far as I know. Maybe more. Genius!
To pronounce Martha Argerich is Mar-ta (silent h) Ar-he-rich (as in rich with abundance. Silent g).
Martha's Warm up piece is Schumann's Toccata.
After the music ended, she always immediately got up and thanked the conductor. No "Keeping Still and Let the Sound of the Piano Dies Out and Keep The Audience Holding Their Breathes Before Applause" business.
And she usually starts playing the encores even before the applause dies out. A little impatient, eh Martha?
She often talks to someone (usually with conductors) during curtain call. She always want to share the honor with others (although conductors usually steps back and let her be the solo star, joining the crowd in applauding her)
There's always a long line up for autographs after her concerts. She is a celebrity of the classical world.
Her first musical discovery was attending Claudio Arrau's concert of Beethoven Piano Concerto no.4. The second movement struck her like a lightning bolt.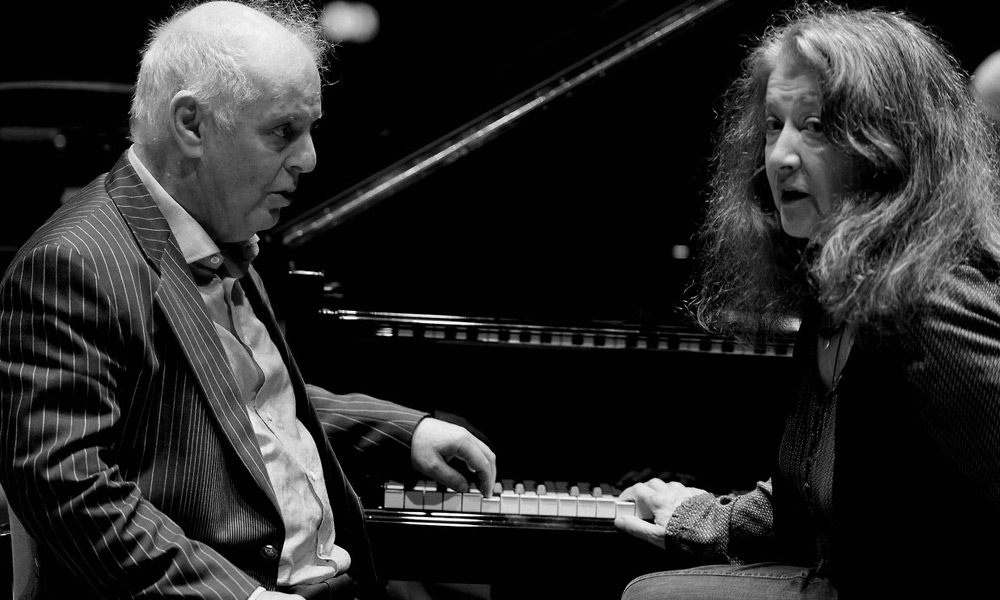 She once stormed off the judge's panel of the 10th Chopin Piano Competition as a protest after Ivo Pogorelich got eliminated. She said: "The man's a genius". As you can see, if she wants something, she gets it. But nowadays she's back on the panel again. All is good. Before the competition starts, she gave a fierce Tchaikovsky Concerto performance. As fierce as when she left the judging panel.
Ivo Pogorelich still got eliminated but then got famous because of the incident. Incidentally, Pogorelich is a truly remarkable pianist. Although in recent years, after his wife's death, Pogorelich's career began to tragically dwindles. Shame.
Martha is notorious for her last minute cancellation. But don't think that she has a nonchalant attitude towards her concerts. It's just she sometimes had to deal with the relentless concert schedule and her own mood that day. The constant traveling often can be tiring and lonely. Her concerts are always a hot-cake-sale, so you can bet that her yearly concert can amount up to 50 concerts a year. These days she cut down a bit. But she always pays extra attention to her own annual concert program in Lugano. Man, I do wish I live somewhere in Europe and be able to just take a train to Swiss for her concerts.
Many pianists are asked to play this piece or that, but not for her. She's the one who dictates the repertoire. And thanks to her legendary status, she can do that and still concert promoter will jump to any chance.
She received the Kennedy Center Honors from President Obama in 2016. She said that she still doesn't understand what she had done to deserve it. "I rarely played in America. I also don't teach here. So, I don't know why I'm getting this award.", she said in an interview. Placido Domingo, Yuja Wang and Itzhak Perlman gave tributes to her.
Top List of Discography
Rachmaninoff & Tchaikovsky Piano Concerti
My copy of this CD has a yellow sticker on it saying: "The Best Recording of Rach 3". It says it all. It is truly the best recording of Rach 3. (It is a bold statement. Many people would gladly disagree, I understand. But you can't ignore the power of the performance). And that goes to the Tchaikovsky too. It is a live recording and she played them with a breathtaking verve. I'm sure many people left the concert hall in a need for a cigarette afterward.
Brahms Piano Quartet no.1
Brahms is my favorite composer for chamber music, and his Piano Quartet is one of the most beautiful. Martha certainly gave a tour de force performance. Very appropriate since Brahms wrote the piano part with Clara Schumann in mind. Many people astonished by how fast the tempo choice. Especially on the last movement Rondo alla zingarese with its gripping theme. It also included a dazzling cadenza that brings the piece to a boiling point.
Brahms Piano Quartet no.1
Tchaikovsky wrote it as "A Memory of a Death of an Artist". It is a colossal trio both in length and technical demand. Who would've thought that a piano trio can contain that wide spectrum of emotion from morose melancholy to grandeur? Tchaikovsky Piano Trio in A minor is considered the composer's most difficult piano music by her. Even topping the piano concerto.
Brahms Piano Quartet no.1
She unveiled my ears on how virtuosic Bach piece can be. This was revelationary to me as I never thought that Bach's music can have this element. It got swing and grittiness to the sound. She has a solid touch but never harsh, the swift tempo creates the dynamics that often lost in other Bach players. She made Bach really swing but not so eccentric. She practically made Bach sizzle. I talked about the impact this CD made on my own playing in another post.
Brahms Piano Quartet no.1
Every single piece in this record is a marvel. But let's start with the Liszt Sonata. Her playing is one of the definitive performance of the sonata (in my book, this title is shared with Zimerman). It is like a spiritual enlightenment ritual. The dramatic movement followed by the intimate and sensitive Andante sostenuto created this sacred atmosphere. Close your eyes, laid back, play this on high volume, and your ears will have an adventure.
The Prokofiev's Toccata also took breaths away. That speed… And not just that. She brings out the melodies together with the incessant percussiveness so beautifully and effortless. I say effortless, because when you see the sheet music, "effortless" is the last thing that comes to mind.
And to hear Ravel's Jeux d'eau (Fountain) afterward creates this juxtaposition. She gave us lightness and water trickling down from the keyboard. A polar opposite from the Prokofiev. Is there anything she can't do?
I was perplexed to hear an applause at the end of this recording because I find it so perfect, I thought this must be a studio recording. All I can say is that the dead truly danced that night.
Brahms Piano Quartet no.1
This record contains rare Chopin works by her, the Ballade no. 1 and the Etude Op. 10 no. 4.
Brahms Piano Quartet no.1
Martha noted that when she was pregnant, her playing became more reserved. She made the Ravel's Gaspard de la Nuit recording when she was carrying her youngest daughter. She thought that the results were less than satisfactory. I found that hard to believe. But when I hear this recording, I now know what she meant. She was 37 when she played this live in Concertgebouw in Amsterdam. Here she just unleashed another dimension of fantasy in Ravel's world. Greater dynamic range in the Ondine, immaculate phrasing in the Le Gibet and more savage Scarbo.
Brahms Piano Quartet no.1
Love the cover photograph. Two giants ready to face each other on the piano battlefield. Nelson still had his cigarette lit. But I hate the font choice. She played this best with Nelson Freire or Alexandre Rabinovitch. They produced a massive sound, robust tone, and audacious bravura passages. They really went ahead straight into the fire -meaning the difficult parts- without flinching.
Brahms Piano Quartet no.1
Brahms composed this music originally as a string quintet (2 violins, a viola and 2 cellos). Joseph Joachim (Brahms violinist friend) suggested that the texture was too heavy for strings alone. Brahms then transcribed it to two pianos. Clara Schumann (Brahms dear friend slash lover) then suggested to include the string for lyrical qualities. After Brahms' famous Clean House, he thankfully left the two pianos version (he burnt the original string quintet). Brahms premiered it with Carl Taussig. I imagined it sounded as thick as the one Argerich and Zilberstein played here.
Artprint Gilded with 24carat Gold
$150
Artprint Series - Love Joy, Love Blues, Love Lost
$65
Artprint - Love Blues
$25
Artprint Series - Ivory Parchment & Imperial Blue
$50
Artprint - Ivory Parchment
$30
Artprint - Imperial Blue
$30
Artprint Gilded with 24carat Gold
$150
Display Typeface
$5 - $50
Artprint (Choose any letter)
$15
Monogram Mug (Choose any letter)
$15